Dogs are supposed to add to our lives and make them better, not detract from them and make them harder. Let us at She's a Keeper help you improve your life and your dog's, don't wait any longer!
We at She's a Keeper love helping people live happier, fuller lives with their dogs, starting with training. We help people train their dogs to fit their lifestyles and vice versa. We have 24 years of combined experience training dogs, including service dogs, therapy dogs, protection dogs, aggressive dog rehabilitation, and competing in obedience, flyball and disc competitions. We offer private, in-home training sessions, boarding and board/train sessions.
Our Team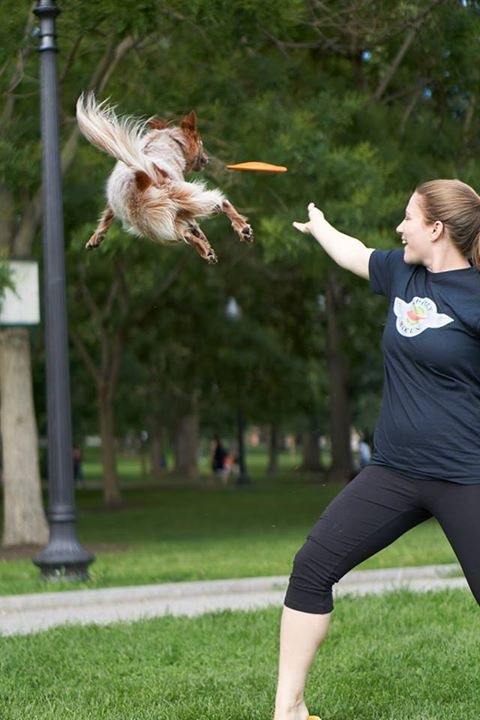 Isys is a passionate dog enthusiast who wants every dog owner to live a happy, fun, full life with their dog. She has 15+ years training dogs with experience in multiple areas, including Competition Obedience, Flyball, Disc, Service Dog Training, Therapy Dog Training and Trick training. She graduated from Cornell University with a degree in hospitality management and decided to follow her passion, dog training, after 5 years managing restaurants around the country. Here she is pictured with her rescue dog, Keeper, her inspiration for the company. "I have the best job in the world! When you love what you do it isn't work anymore, that's how I feel about what I do."
Davis is a devoted trainer who loves working with all types of dogs, especially working breeds with incredible drive. He has 13+ years of experience training dogs, including hands on training of at least 30 police dogs for drug detection, bomb detection, cadaver search, tracking, and patrol/apprehension. He has trained 3 dogs to completion for drug detection, one of which earned 1st place at the USPCA National Scent Detection Trials in 2016. His Australian Cattle Dog, Zorro, earned his Protection Dog Certification when he was 10 years old, the only Australian Cattle Dog to ever earn the title. His Pitbull, Tabu, earned her four 1st place qualifying runs in Barn Hunt as well. He received his Master Trainer Certification from Tarheel Canine School for Dog Trainers. He is a Canine Good Citizen Evaluator. Here is pictured with Tabu and his Australian Cattle Dog, Cordell.
Andy Castro found his calling with dog training in 2014 and has learned an immense amount since then. After 12 years working as a chef in restaurants across the country, Andy now enjoys working with all ages and personalities of dogs. He loves working with the stubborn teenager dogs whom he can really bond and play with. His current dog is a Mastiff named Max, a certified therapy dog and 155 lb love bug.
Born in Hawaii, Jen began her love affair with dogs at age 3 when she crawled under the breeder's couch after a puppy who would become her best friend and partner in crime. In the many years since, she's raised and trained numerous dogs from poodles to pit bulls. She also serves as a foster parent to homeless canines for a local rescue. Dog training is Jen's second (or perhaps third?!) act in terms of careers. After college, she joined Corporate America and worked full-time until she had her first child. After quite a few years at home raising three girls and multiple rescue dogs, she decided to pursue her passion and become a dog training professional. Jen specializes in starting puppies on the right track with positive reinforcement and clicker training. She is also well versed in counter-conditioning, leadership training, and behavior modification. She currently resides in Newton, MA with her husband, 3 girls and 2 dogs.
Madi is an integral part of the She's a Keeper team and manages our dayacre clients and playgroups. She is currently studying for her Master's in Social Work and is training to be a professional dog trainer.
Megan had her first family dog, Scooby, at the age of six and has been in love with dogs ever since! Now, with 18+ years of dog ownership and training experience she has decided to join the She's a Keeper team. She works with dogs of all ages, sizes, and personalities but her specialties are high anxiety dogs, service dogs, and therapy dogs. She feels that if she can make the relationship better with a dog and their family then she is making the world a better place. Highly devoted to her pet parents and dogs that she works with, she tirelessly strives to make dogs a positive addition to every family. Here she is pictured with her dog, Finn Xavier, who is her inspiration for every person and pet that she works with!
our training philosophy
Our training philosophy is simple. We recognize every dog and handler team to be unique. Our training is designed to address these diversities. Our goal is to devise a training program for each dog and handler that fits their individual situation. Our training methods are based on motivational principles, with an overarching permission based training theme. Our goal is to motivate the dog to learn and perform, to build confidence in both the dog and handler, through success with humane, consistent, interactive training. We treat each dog as an active participant, a student to be taught and molded, rather than forced. Our knowledge of animal behavior and our years of experience allow us to shape the dog's behavior and enlist their willing participation in the training process.
How To Be a Good Dog Trainer
A good trainer is always learning and incorporating new information, techniques, and tools into their program in order to serve more people and provide better results.

A good trainer is honest.

A good trainer doesn't make anyone feel guilty for what they don't know or what they've done in the past, but motivates them to do better in the future.

A good trainer does not sacrifice a dog's well being for results. nor sacrifice results to adhere to their training dogma.

A good trainer recognizes when they are not equipped to deal with a certain behavior or dog, and does not take on that client if they don't know that they can help.
Private training
We offer private, in-home training sessions where we come to you to work on everything from loose leash walking to house training to not jumping on counters or people and more. These private sessions can also be held at our facility in Stow, MA and other locations, such as off leash practice at a park, or proper play manners at the dog park, or leash reactivity around dogs.
$110/hour
$475/5 pack lessons
$850/10 pack lessons
*Lesson packs expire one year after purchase
Evaluation
If you'd like to have us evaluate your dog to give advice on the best training path for them or if you're interested in a board and train, an evaluation is right for you. No training is involved, we just come to assess the dog and the situation.
$85/hour

traditional board & train
In our traditional board and train we pick up your pup and take them home with us, where we focus on 3 top issues you would like resolved. Depending on the issues, these board and trains usually range 1-3 weeks. Some common focus areas for the traditional board and train are basic obedience (Sit, Down, Stay and Come on leash), loose leash walking, no jumping or biting, house training, drop and leave it, and Go Place. Upon drop off we do an hour transition lesson where everyone in the family performs the same commands with their dog that we do. Also included is an hour long followup lesson a week later to make sure the training sticks. Tools are not included in the cost. An evaluation is required prior to the board and train if we have never met your dog.
$800/1 week
$1600/2 weeks
$2100/3 weeks
*3+ weeks is $700/week

aggressive dog board & train
In our aggressive dog board and train we pick up your dog and take them home with us, where we focus on 3 top issues you would like resolved. Depending on the issues, these board and trains usually range 2-4 weeks. Some common focus areas for the aggressive dog board and train are dog socialization, off leash recall with an e-collar, separation anxiety, resource guarding, leash reactivity and confidence work. Upon drop off we do an hour transition lesson where everyone in the family performs the same commands with their dog that we do. Also included is an hour long followup lesson a week later to make sure the training sticks. Tools are not included in the cost. An evaluation is required if we have never met your dog.
$1000/week, 3 weeks minimum
boarding
Boarding is offered for clients who have participated in private training or a board and train program with She's a Keeper. Your dog will enjoy a day full of structured playtime with other well behaved dogs, basic obedience practice, rides in the car and outings, such as the beach, dog park or hiking. At night they will sleep in a crate in one of our trainer's homes, with other dogs in crates around them for comfort. We crate or dogs at night for safety. Pickup and drop off included.
$65/day

therapy dog training
If your dog has the right personality to become a therapy dog, which we will help you determine, we set up private training sessions to train your dog to have the necessary skills to be a therapy dog. Once they have successfully obtained these skills, we will administer the therapy dog test and upon completion, you and your dog will be a certified therapy dog team through Therapy Pets Unlimited. We will also put you in touch with volunteer opportunities for you and your dog to provide therapy in the community. Private lesson pricing applies.

service dog training
Training your dog to be a service dog is a big time commitment, but well worth it. We assist owners in training their own service dogs through private lessons, usually on a weekly basis. Please contact us for more specific information regarding service dog training as it changes on a case by case basis depending on the individual and the dog's needs. We have experience in many area of service dog training, but specialize in autism service dog training, psychiatric service dog training and mobility support service dog training.

canine good citizen evaluation
Does your dog have what it takes to pass the American Kennel Club's Canine Good Citizen Test? If so, we can evaluate your dog and award them this well know, well respected title. To find out more about the CGC Title and testing requirements, click here. Contact us to set up a private lesson and evaluation. Private lesson pricing applies.
Group Training Classes
We offer group training classes weekly in Natick, MA and at our facility in Stow, MA. Classes range from Basic Obedience and Puppy Kindergarten to Canine Good Citizen prep, Trick Dog class and more. Classes run for 6 weeks and are $210.
Upcoming Classes in Natick, MA starting 11/10:
Puppy Kindergarten 10-11
Basic Obedience 11:15-12:15
Canine Good Citizen Class 12:30-1:30
Service Dog/Therapy Dog Class 2-3
Upcoming Classes in Stow, MA starting 1/12/20:
Puppy Kindergarten 10-11
Basic Obedience 11:15-12:15
Canine Good Citizen Class 12:30-1:30
Service Dog/Therapy Dog Class 2-3
Please email us at Info@ShesAKeeper.dog for more information and to sign up.
Daycare
Daycare is offered for clients who have participated in private training or a board and train program with She's a Keeper. Your dog will enjoy a day full of structured playtime in our 1 acre fenced in yard at our facility in Stow, MA, along with basic obedience practice. Pickup and Drop off included.
$60/day
*All clients must sign the following Service Contract prior to engaging in services with She's a Keeper.
"I have nicknamed Isys "the dog whisperer". She is totally amazing. We border trained our adorable, but very stubborn, English Springer Spaniel Alex for two weeks with her. What she taught him in that two weeks was nothing short of amazing. She not only is a great trainer, but a great communicator.. with texts, photos and videos so I knew the progress he was making every step of the way. Every dog has their own strengths and challenges, and Isys works with the dogs strengths to overcome their less than desired behaviors. I am so grateful to her for all she has done and look forward to our follow up session.. Highly recommend her. She did a "meet and greet" session before we sent Alex for training, which really helped me be comfortable with sending Alex to train with her." - Nancy K. & Alex ⋆⋆⋆⋆⋆
"Isys did a fantastic job with our 11 week old Wheaten Terrier Bailey. We sent Bailey to Isys for a 9 day board and train session and Bailey came back a different pup! He's learned obedience skills such as name recognition, sit, down, walking, wait for his food, and more! Isys also did a wonderful job sending us daily updates via text and videos. Bailey had a great time also playing with the many dogs and pups Isys had introduced him to. He's a much more confident and obedient puppy now; thanks Isys!" - George L. & Bailey ⋆⋆⋆⋆⋆
"Isys is an incredible dog trainer. Our yellow lab has spent two separate weeks in her care (at 7 months and 11 months) and has made incredible strides. The first week he learned basics, sit, stay, go crate, leave it, and drop it, as well as work on recall and healing. He was with us for 4 months in between sessions and then went back for a second session. He has been home for a week since his second session and his recall is now much much improved as is his healing. He really seems to understand these commands which make our life so much easier. He also worked on leaving and dropping items in the yard (which is important for us with a young family and lots of toys outside which are not for him). Isys is a warm and gentle trainer who clearly loves dogs and training them. She is able to achieve great results in a calm and understanding manner. Our dog goes running to her the moment she arrives and is always so happy to see her. She has worked hard with our whole family to help train the puppy. She has helped my husband and me with our command over the dog but she has also taken the time and interest to help our young children learn how to safely and effectively participate in his training. She is truly a gift to our family and I would recommend "She's a Keeper" to anyone looking to train their family dog. She also goes above and beyond the duties of your typical trainer. She offered to pick our puppy up from our house when nobody was home, took him to a puppy play date, introduced him to swimming for the first time, and dropped him off again, just because she thought he would enjoy the experience! You can't ask for more than that! Thank you Isys!" - Gretchen B. & Sonny ⋆⋆⋆⋆⋆
Many more on Thumbtack.com and Facebook!
"We recently rescued a dog just before heading out of town for a 5-day trip. We needed some training but also needed someone to take care of our new dog as we didn''t want to place him back in a kennel. Lucky for us we found Isys. Isys came to our home for a visit prior to his official pickup. She spent an hour or so answering our questions and getting to know our dog Brodie. A few days later Isys came by to pick Brodie up for his weeklong stay with her. Isys sent us pictures and nice notes each day while we were away. I could text and ask questions…she was quick to respond. She had Brodie on hikes, playing with other dogs and lounging on her bed. Yesterday, Isys dropped off Brodie. He seemed very happy and had even learned a few new tricks. He was so happy, he appeared sad to see her leave. Isys seems like a really great person. I would highly recommend using her for training or a train/board situation." - Mark K. & Brodie ⋆⋆⋆⋆⋆
"I was a little hesitant to send my dog off to Isys because when I looked over her Facebook page it didn't seem as though she had as much experience as some of the other trainers who I spoke with. I talked with her by phone and explained what we were struggling wiht with our 10 month old Goldendoodle. Following our conversation, I felt comfortable with her training methods and decided what the heck - everyone starts out with fewer clients. I am SO glad I made the decision to go with her. I asked her about her background and experience and she has been training dogs since she was a teenager, having trained the family to participate in agility competitions.
Our dog did not have a major behavior problem. He is and was a very sweet dog who listened inconsistently, stole food from the counters, and hated going in to his cage - he either refused or barked and whined the whole time he was in there. He did not need major behavior modification but needed to listen consistently, come when called, and be trusted not to steal food.
Isys is one of the few trainers who will do a "boot-camp" style training who does not use shock collars. For me this was important because I need to be able to control my dog and can't hold a remote in my hand 24/7. In addition we have an electric dog fence and two collars are just too much for him to wear. Isys uses repetition and positive reinforcement and by being consistent our dog came back a better listener. As I type this he has been waiting patiently in his crate for ten minutes, with the door open, to be allowed to leave. I wish I could post a picture to prove it!
Over the ten day period when Isys had my dog she updated me with pictures and videos on his progress. It was clear from her pictures and updates that our dog was happy and having fun while training. He was with other dogs at times which helped him obey even when distracted. We had coordinated the training to align with a vacation so it was nice to know that our dog was having a great holiday as well.
Isys also has incredible follow through. After dropping my dog back off at home, she spent about an hour going over what he had learned with us. A few weeks later when I was not having as much success as Isys had had, she came back and trained him again at my house. She also offered and will be coming back again to train my three young children on how to maintain the obedience training.
Isys is calm, upbeat, and very accommodating. I would highly recommend Isys for dog training." - Emily W. & Auggie ⋆⋆⋆⋆⋆
.04
Contact Us
If you would like to set up an initial private lesson or have any questions, please fill out the form below and we will gladly respond to your inquiry. We look forward to meeting you and your dog! Live a better life with your dog today!