Dogs are supposed to add to our lives and make them better, not detract from them and make them harder. Let us at She's a Keeper help you improve your life and your dog's, don't wait any longer!
We at She's a Keeper love helping people live happier, fuller lives with their dogs, starting with training. We help people train their dogs to fit their lifestyles and vice versa. We have 24 years of combined experience training dogs, including service dogs, therapy dogs, protection dogs, aggressive dog rehabilitation, and competing in obedience, flyball and disc competitions. We offer private, in-home training sessions, boarding and board/train sessions.
Our Team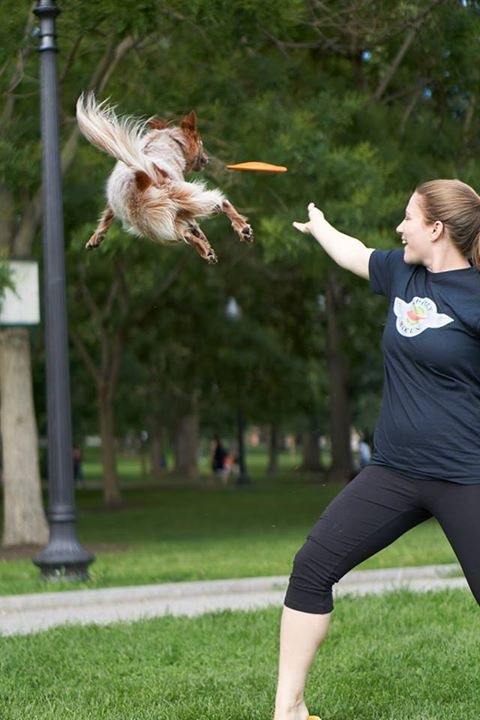 Isys is a passionate dog enthusiast who wants every dog owner to live a happy, fun, full life with their dog. She has 15+ years training dogs with experience in multiple areas, including Competition Obedience, Flyball, Disc, Service Dog Training, Therapy Dog Training and Trick training. She graduated from Cornell University with a degree in hospitality management and decided to follow her passion, dog training, after 5 years managing restaurants around the country. Here she is pictured with her rescue dog, Keeper, her inspiration for the company. "I have the best job in the world! When you love what you do it isn't work anymore, that's how I feel about what I do."
Davis is a devoted trainer who loves working with all types of dogs, especially working breeds with incredible drive. He has 13+ years of experience training dogs, including hands on training of at least 30 police dogs for drug detection, bomb detection, cadaver search, tracking, and patrol/apprehension. He has trained 3 dogs to completion for drug detection, one of which earned 1st place at the USPCA National Scent Detection Trials in 2016. His Australian Cattle Dog, Zorro, earned his Protection Dog Certification when he was 10 years old, the only Australian Cattle Dog to ever earn the title. His Pitbull, Tabu, earned her four 1st place qualifying runs in Barn Hunt as well. He received his Master Trainer Certification from Tarheel Canine School for Dog Trainers. He is a Canine Good Citizen Evaluator. Here is pictured with Tabu and his Australian Cattle Dog, Cordell.
Andy Castro found his calling with dog training in 2014 and has learned an immense amount since then. After 12 years working as a chef in restaurants across the country, Andy now enjoys working with all ages and personalities of dogs alongside his wife, Isys Johnson. He loves working with the stubborn teenager dogs whom he can really bond and play with. His current dog is a Mastiff named Max, a certified therapy dog and 155 lb love bug.
Born in Hawaii, Jen began her love affair with dogs at age 3 when she crawled under the breeder's couch after a puppy who would become her best friend and partner in crime. In the many years since, she's raised and trained numerous dogs from poodles to pit bulls. She also serves as a foster parent to homeless canines for a local rescue. Dog training is Jen's second (or perhaps third?!) act in terms of careers. After college, she joined Corporate America and worked full-time until she had her first child. After quite a few years at home raising three girls and multiple rescue dogs, she decided to pursue her passion and become a dog training professional. Jen specializes in starting puppies on the right track with positive reinforcement and clicker training. She is also well versed in counter-conditioning, leadership training, and behavior modification. She currently resides in Newton, MA with her husband, 3 girls and 2 dogs.
Madi is an integral part of the She's a Keeper team and manages our dayacre clients and playgroups. She is currently studying for her Master's in Social Work and is training to be a professional dog trainer.
Megan had her first family dog, Scooby, at the age of six and has been in love with dogs ever since! Now, with 18+ years of dog ownership and training experience she has decided to join the She's a Keeper team. She works with dogs of all ages, sizes, and personalities but her specialties are high anxiety dogs, service dogs, and therapy dogs. She feels that if she can make the relationship better with a dog and their family then she is making the world a better place. Highly devoted to her pet parents and dogs that she works with, she tirelessly strives to make dogs a positive addition to every family. Here she is pictured with her dog, Finn Xavier, who is her inspiration for every person and pet that she works with!
our training philosophy
Our training philosophy is simple. We recognize every dog and handler team to be unique. Our training is designed to address these diversities. Our goal is to devise a training program for each dog and handler that fits their individual situation. Our training methods are based on motivational principles, with an overarching permission based training theme. Our goal is to motivate the dog to learn and perform, to build confidence in both the dog and handler, through success with humane, consistent, interactive training. We treat each dog as an active participant, a student to be taught and molded, rather than forced. Our knowledge of animal behavior and our years of experience allow us to shape the dog's behavior and enlist their willing participation in the training process.
How To Be a Good Dog Trainer
A good trainer is always learning and incorporating new information, techniques, and tools into their program in order to serve more people and provide better results.

A good trainer is honest.

A good trainer doesn't make anyone feel guilty for what they don't know or what they've done in the past, but motivates them to do better in the future.

A good trainer does not sacrifice a dog's well being for results. nor sacrifice results to adhere to their training dogma.

A good trainer recognizes when they are not equipped to deal with a certain behavior or dog, and does not take on that client if they don't know that they can help.